News from the UK Solar Provider
95 kWp Solar Energy System in South Cambridgeshire/Royston
UK Solar Provider Ltd is happy to announce that we have submitted full planning for a 95 kWp rooftop solar system. This is our first system in the UK and will be developed on an agricultural farm in South Cambridgeshire near Royston.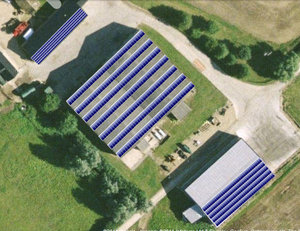 The system will be mounted on 3 grain stores in total, 1 barn facing south, the other 2 facing east/west. On the roofs of the east/west facing barns the panels will be mounted on a-frames so they are south facing. UK Solar Provider will use components of the highest quality available: solar panels from Aleo and inverters from SMA.
The installation includes 416 Aleo 230W S19 panels, the award winners of the stiftung warentest, 4 SMA 15000 TL and 2 SMA 17000 TL inverters.
In the summer most of the carbon free energy generated will used on site for grain drying, providing the owners of the farm not only with an additional income through the feed-in-tariff, but also saving them money by reducing their energy bill. The generated energy will be 91,532 kWh per year of which about 40% will be exported to the grid and 60% will be used on site. Per year 81 tonnes of CO2 emission will be avoided.
The whole system has a superb performance ratio of 80,7%. The performance and functionality of the system will be monitored 24/7 through a SMA webbox.
The construction will start on the 2nd of May 2011 and will be completed and connected to the grid on the 19th of May.

Permalink
Trackback link
Views: 11128